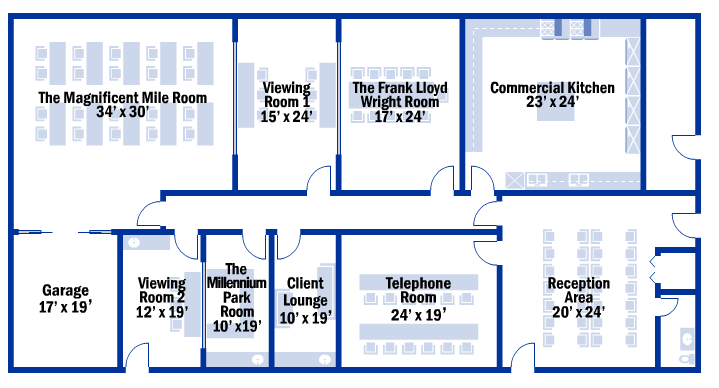 The 6,200 sq. ft facility is located in a premium single-story business park with ample private parking and easy access from area expressways.
The facility is located in a rapidly growing southwest suburb of Chicago with easy access to Interstate 80 and other Chicago expressways.
Two Focus Group rooms with attached viewing can accommodate 8 to 12 person focus groups in comfort. These rooms can comfortably support up to 20 people when setup for product testing.
The large Magnificent Mile room is a spacious testing room that can accommodate up to 75 people in theater-style seating, while allowing clients to view testings in the comfort of our attached, tiered viewing room. When this room is used for product testing it can support 50 people classroom style or 40 people with facility-owned computers. This versatile room also has outside access to display large equipment or vehicles in the privacy of our climate-controlled facility. The large commercial kitchen has ample electrical and gas connections for all types of large-scale food preparation and testing.
To compliment all of these amenities, our Chicago facility also features closed circuit television viewing of all group and testing rooms into the kitchen, client lounge, and viewing rooms.
Location:
9405 Enterprise Drive, Mokena, IL 60448
Area:
6,200 sq. ft
Services:
Sensory Testing, Focus Groups, Product Placements, Mock Juries, Children Studies, Telephone Interviewing, Executive Interviewing, Automotive Studies