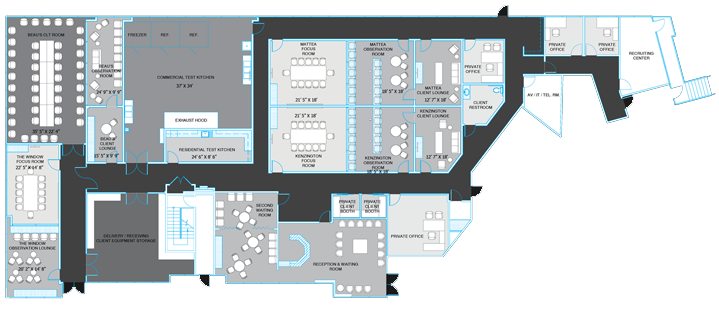 At Insights Center — Los Angeles' premier taste test and focus group facility — we are dedicated to providing you with the right recruits in the right environment.
Our state-of-the-art facility is ideally located in one of the finest communities, providing convenient access for both clients and respondents from the suburbs or the city. We spared no expense to create an environment that is both lavish and relaxed. Each suite has all of the amenities that you will need for comfortable viewing of your groups, while the spacious and fully equipped commercial test kitchen is sure to please even the most experienced chefs.
Our goal is to build long-term relationships with every client, and we have found the only way to do this is to provide meticulous recruiting, a spectacular facility and unsurpassed customer service. Our recruiting team is skilled and experienced, our facility is unequaled and our audio/video system can be adapted to meet any client need. Every "i" has been dotted; every "t" crossed! We want your experience with us to be a positive one, and we believe that shows.
With Insights Center, we will stay up at night worrying about your groups so you don't have to. And we pride ourselves in accommodating your requests with a smile. Whether you need us to phone 100 stores to find a particular product or shop for your client's child, just ask!
Even though you may be miles from home and without the amenities of your office, with Insights Center, you are not alone and without assistance. We will not let you down.
Location:
5016 Parkway Calabasas # 101, Calabasas, CA 91302, USA
Area:
12,500 sq. ft
Services:
RECRUITING CLT ROOM CATERING FOCUS GROUPS COMMERCIAL TEST KITCHEN RESIDENTIAL KITCHEN HOME USE TEST ETHNOGRAPHY PRIVATE CLIENT BOOTH FIELD MANAGEMENT