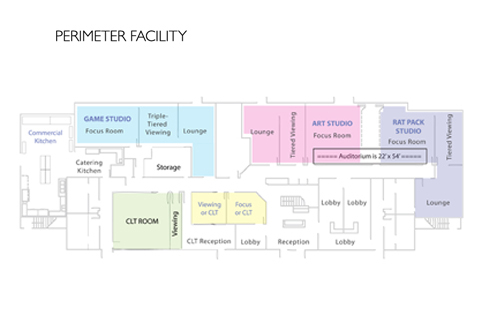 At Insights Center, we offer services that are "a cut above the rest". We pride ourselves on our ability to coordinate and host the most complicated of projects. With more than 250 years experience in our Call Center and Client Services departments, we are so efficient our clients can concentrate on other things.
Our Perimeter facility has over 16,000 square feet and can accommodate virtually any size or type of project.
Using our innovative Instant UpdateTM technology, our clients never have to wonder how many respondents have arrived - their attendance is updated in the centralized system and the informaton is instantly sent to their individual display screens in the viewing room.
Spacious, well-appointed client lounges include private access to and from the building, and amenities found in the best hotels.
Location:
D, 6105 Peachtree Dunwoody Rd #135, Atlanta, GA 30328, USA
Area:
16,000 sq. ft
Services:
In-person Focus Groups Recruiting and Training Legal Research Sensory Research Taste Tests Training Recruiting Facility Guests